Post by Red Leather Art on Dec 10, 2018 13:40:40 GMT -8
EDIT: This audition is now closed; I want to thank everyone who auditioned for one or more of the roles (there were a handful of email auditions from this site, and a lot more auditions on my CCC listing for these same roles) - and let you know that those who were cast/chosen for the roles will be contacted soon to work out the details.

(I may also contact backup choices in a week or so if there is a problem with one of the original castings.)

Hi. I am a 3DX artist that is looking to find some voice actresses to voice some of my characters in a few of my projects.
As stated above, this is a general casting call for several characters to be used in multiple fantasy-themed adult projects; including animations and games that I would like voice work for, with possibly other content types to come - all of them adult in nature. Some of these characters are not expressly needed in the short term, but could be used in several months or so; and so I list them just in case anyone is interested. (If I get a voice for them, I am more likely to make content with/for them.) The need level for each character is stated just above their audition lines.

You can see many different things that I have made over the years on my site; including a demo of my previous game and gifs of several of my previous animations. (There are also story sets and other things freely available to help get a feel for the different characters and my work in general; but those are not planned to be voiced at this time.)
There are four main characters and three side characters available right now. If you choose to audition, please be comfortable with all sorts of adult content types/fetishes, (check my site for content/style examples of my work) as well as making explicit dialogue and adult SFX bits; as all of these will come into play at some point.

Below is a list of the characters that I am currently looking for, along with a basic (sometimes censored due to forum rules) image of them and some basic information about them. More detailed information (the full bios) for the main characters can be found on my "Characters" page and many other... more detailed... images of the characters can be found on my site, linked below. (The side characters really only have what info/images are posted here - as the new game is still being worked on.)
redleatherart.com/wp/
(SITE OBVIOUSLY VERY NSFW)
Suggested/offered compensation rates: (in USD, to be paid via paypal)
$1 per short dialogue line, six words or less
$2 per long dialogue line, more than six words
$6 per minute of adult SFX
(An exchange of services could also be arranged instead of money, if preferred/desired - let me know and/or feel free to ask if this idea interests you.)

Please have a good microphone and be able/willing to clean/process your own audio; cutting would also be greatly appreciated.Quick side note:
The other characters on my "Characters" page are not currently up for casting - the other females are currently taken and the males I do not see a need for at the moment. However, if you are genuinely/seriously interested in voicing one of the other girls, feel free to ask about it and I may let you try out for them anyway. (Just in case I need a replacement at some point or possibly for another similar voice role down the line.)

Need level key:
Immediate - I would have work for you as soon as the casting is finished. (this is for characters that are already in or going to be in content that is currently being made or that already exists)
Soon - I would likely have work for you in a couple months, maybe less (this is for characters that are planned to be used in content relatively soon but not right now)
Later - This is for characters that I do not expressly need right now, but will use in the future; obviously I am not planning vocal content for them until I can get a voice for them. (this is for characters whose content is probably at least several months away)
There will of course be more voice work/content (particularly in the long term) for the "main" characters - especially Salune as she is in multiple major projects right now; however, do keep in mind that I need the side characters sooner than most of the main ones.


Main Characters: (please note Lucia and Tabitha have four audition bits)Lucia
Sex: Female
Race: Catgirl
Age: 19
Personality: Cuddly/curious/playful
Occupation: Tribe gatherer/breeder
Voice type: Cute, playful, energetic (w/cat sounds)
Need level: soon
Audition Lines:
1.) "I'm sorry... I was so thirsty and your milk looked so tasty..."
2.) "(long meow) I'm so hot and itchy down there.... will you play with me...?"
3.) "(slight pain moan) Your cock is sooo big... and it feels really, really good!"
4.) 10 seconds of assorted cute/sexy catgirl sounds
Salune
Sex: Futa
Race: Forest Elf
Age: Unknown (She doesn't remember, but think 30-ish)
Personality: Obsessed with sex, completely submissive, weak willed
Occupation: Breeding slave
Voice type: Timid/needy/submissive
Need level: immediate (warning: high content volume)
Audition Lines:
1.) "Can I cum inside tonight, mistress? Pretty please... I've been good today..."
2.) "(desperate whine) Please mistress... I need to cum sooo bad it hurts..."
3.) "You two look so sexy... I'm gonna knock you both up sooo fast..."
Tabitha Westfield
Sex: Female
Race: Human
Age: 26
Personality: "Tsundere" is the best basic summary I can give - so she is very loving/cuddly when alone with her boyfriend, but really bitchy and rude otherwise... especially to other girls she sees as competition.
Occupation: Thief
Voice type: Tsundere - so either cold/rude/distant or loving/devoted/kind depending on who is around. (Which one should be obvious from to the lines/context, but she is rude most of the time.) There are two audition lines below for each type.
Need level: later
Audition Lines:
1.) "What the fuck is your problem?"
2.) "(struggle grunt) Hands off! Keep your filthy cocks away from me!"
3.) "(playful moan) Now that we're alone again, why don't you slip that thick cock of yours back into it's matching sleeve..."
4.) "C'mon baby - give me that thick, salty cream I love so much!"
Karen Stormborne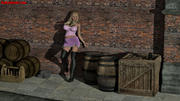 Sex: Female
Race: Human
Age: 21
Personality: Charismatic/naughty/kind
Occupation: Courtesan
Voice type: Sweet, playful, sultry
Need level: later
Audition Lines:
1.) "Oh wow... there's a lot of you today... this is gonna be sooo much fun!"
2.) "So... what did you guys want to do with me today? I'll give you a group discount..."
3.) "(playful moan) Oh goddess; you came even more than the first two... so who's next?"
Side Characters:
Half-elf slave girl
Sex: Female
Race: Half-elf
Age: 18
Personality: Weak/naive/inexperienced
Voice type: Timid/submissive
Need level: immediate
Audition Lines:
1.) "(frightened moan) No... don't touch me there!"
2.) "No more cocks... please, I'll be good... I promise..."
3.) "Ewww... it's so thick and salty..."
Human slave girl
Sex: Female
Race: Human
Age: 29
Personality: Cold/indifferent/depressed
Voice type: Curt/resistant/flat (most of the time)
Need level: immediate
Audition Lines:
1.) "Do whatever you want with me..."
2.) "If I have to... fine; I'll suck his filthy cock."
3.) "(partly stifled moan) What... NO! You can't fit two in there at once!"
Elf slave girl
Sex: Female
Race: Forest Elf
Age: 326 (so 32 ish in human years)
Personality: Experienced/open/confident
Voice type: Naughty/eager
Need level: immediate
Audition Lines:
1.) "(passionate moan) Oh mistress, you're so good at this..."
2.) "I hope I can fit this whole thing in my mouth..."
3.) "Both holes at once? You boys are so naughty!"
Recording & sending Instructions:
-Please audition for no more than FOUR (4) characters total
-Please send all files in 44100 hz .wav format
-Record all of a character's audition lines in one file, with a separate file for each character.
-Label each file as (Your name)_Character.wav
-Put "RLA Audition for (Character name)" in the subject line of the e-mail; if more than two, just say 'multiple characters" and attach the actual files to the audition email
-Please do not re-label the same audition file and send it in for multiple characters, it will be ignored. (i.e. - Do the proper lines for the proper character.)
-If auditioning for one of the "main" characters -
please
make sure that you are able (or willing) to do the role
long term.
-Please use an email that you check regularly; as if you are chosen for a role, I expect a response within 2-3 days - if you do not reply to an email offering a role, be aware that I will likely offer it to someone else instead.
-If you audition for a role, please leave a reply below indicating that - along with what roles you auditioned for (just to make sure that I got your email and confirm the characters selected)
-If you would like to keep this anonymous, please indicate that in your email - and ask for a confirmation that I received your audition email since you likely will not want to reply below.
E-mail your auditions to:
voice@redleatherart.com
Casting notices/guidelines:
-I may reply to you once casting is closed asking if you would be interested/comfortable voicing a different character than the one(s) you auditioned for - just be aware of this possibility. (I may also want someone as a backup/extra voice; just in case of whatever.) There may also be a round of callbacks if I am torn between two voices for a given role.
-I reserve the right to not cast anyone for a role if none of the auditions fit well; which is to say that being the only audition does not guarantee the role.
-For what it is worth, I am more interested in finding actresses that are genuinely drawn to and/or interested in the characters/content (passionate) - as opposed to finding a super high quality voice actress. (Obviously quality helps, but... just saying.)
-I do not care if you are a "professional" so long as you act like one - by which I mean if you say that you are going to do something, I expect you to follow through with that. (Replying to emails within 2-3 days and delivering content within a week or two is also generally expected unless it is a particularly high volume of voice work or if there are extenuating circumstances.)
-Again, please be comfortable with almost any type of adult content; (you can easily see many examples of content types I have covered on my pages) my basic list of things that I don't do is on my site, (on the rules/legal stuff page - it's fairly standard as far as adult content goes) but I would just prefer to find people that are ok with pretty much anything just to avoid any future problems/complications.
Feel free to ask any questions, either here or via email to the address above and I will do my best to answer - just know that emails will likely get a faster response.

Thanks for your interest in my project/offer.


DEADLINE: (January 14, 2019) @ (1800 Eastern time)